CURRY LEAVES – BENEFITS AND USAGE|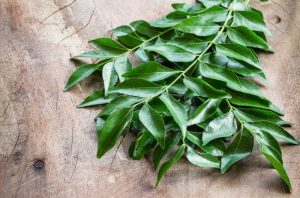 Curry leaves are the foliage of the curry tree (Murraya koenigii). This tree is native to India, and its leaves are used for both medicinal and culinary applications. They're highly aromatic and have a unique flavor with notes of citrus. Curry leaves are not the same as curry powder, though they're often added to this popular spice mixture and popularly used in cooking to add flavor to dishes, such as curries, rice dishes, and dals. Aside from being a versatile culinary herb, they offer an abundance of health benefits due to the powerful plant compounds they contain. It is anti- inflammatory, anti- bacterial and anti- oxidant in nature.
BENEFITS :-
1. Weight loss.
2. It can help in treating dysentery, constipation and diarrhea.
3. Relieves morning sickness and nausea.
4. Eliminates bacteria.
5. Good for diabetes.
6. Good for eyesight.
7. Reduce stress.
8. Heals wounds, burns and skin eruptions.
9. Hair growth.
10. Improves memory.
HOW CAN WE USE CURRY LEAVES FOR AN ETERNAL APPLICATION?
Packed with carbohydrates, fiber, calcium, phosphorus, irons and vitamins like vitamin C, vitamin A, vitamin B, vitamin E, curry leaves help your heart function better, fight infections and can enliven your hair and skin with vitality. It is also very effective in treating damaged hair, adding bounce to limp hair, strengthening the shaft of thin hair, hair fall and treating dandruff. The best part about this benefit is that you can either choose to eat the curry leaves to help with your hair woes or apply it to your scalp as a remedy. Let us learn an easy home remedy for grey hair; curry leaves hair oil. 
METHOD :- 
Take a bowl of coconut oil and one bowl of castor oil, olive oil and sesame oil mixed together. Now take an ounce of curry leaves (no stem), dry them for two days in natural sunlight and then blend them into a fine powder. Mix this powder with the oils, heat them on a low flame and add a few fresh curry leaves to it to understand if the oil is being processed properly. Let it be on the gas for about 20-30 minutes. Cool it down properly overnight (8-10 hours)  till it is at room temperature. Strain it properly and store it in an airtight container. 
HOW TO USE THIS OIL?
One can use it for oiling their hair or even for scalp massaging. Simply dip a cotton ball in this oil and massage the scalp with the help of it. During summers if one mixes one spoon of this oil with aloe vera gel and applies it to the scalp for 40-45 minutes, they can get rid of the excess heat, hair fall, grey hair, itching, hair thinning, etc. 
To Know More Watch Our YouTube Video :- https://youtu.be/Zl-6V0anSQg
#hairfall #greyhair #remedies #curryleaves #benefits #ayurveda #jyovis
– For Doctor Consultation :- http://bit.ly/2tomCT6
– Go Through All The Products :- www.jyovis.com/store
– Online Learn & Earn Courses :- www.jyovis.com/courses
– Best Ayurvedic Products :- http://bit.ly/36ntvmA
– Top Cosmetic & Beauty Products :- http://bit.ly/2F99OCW
– Active Forever 21 Days Online Program :- https://www.jyovis.com/product/active…