CLAY MASK| FULL BODY WHITENING
When it comes to clinical or medical treatments in beauty/cosmetic industry and as well as in ayurveda, there are variety of procedures for full body whitening, lightening, reducing pigmentation, blemishes, etc. These are various result oriented and sustainable procedures that have beautiful results like PRP, mesotherapy, RF therapy, cavitation, body scrubbing, udvartan, panchakarma, etc. Here we are going to talk about a safe and result oriented combination to be used at home everyday.
REQUIREMENTS:-
1] Bentonite Powder – It is copper red in color and acts like a sponge for our skin. It sucks/reduces the dirt or reduces the production of sebum. Sebum in excess it leads to acne and for getting rid of acne we require antibacterial and anti inflammatory properties. Bentonite is the perfect combination for this.
2] Kaolin – In the beauty industry it is known as a detoxifier for skin. It is clinically proven that long term use of kaolin gives us glowing skin as well as toned skin.
3] Calamine Powder –  This is a mixture of zinc oxide and 0.5 % of ferric oxide. It has antipruritic properties which helps with itching, rashes, insect bite or sting, chicken pox, etc.
4] Activated Fuller's Earth (Multani Mitti) :- It is the most commonly used ingredient in most of packs, whether the medicinal packs used for dermatology purposes as in skin diseases as well as used in the beauty industry for acne, blemishes, pigmentation, etc. It acts like a base for our other ingredients. 
HOW TO USE :- 
Talcum Powder – Mix the above mentioned ingredients in equal quantity (for eg- 1spn of each) and store it in a container. While using take one spoonful of the powder in a bowl and mix it well, you will notice a pinkish color. Now if our skin has a darker shade to match this powder to our skin color we will add a bit of bentonite to it. The darker the skin tone the more bentonite we will require. 

Mask – Again we need to mix all the ingredients in equal quantity and store in a container. While using we will take as many tablespoons of the powder as much as our requirement for our face or over all our body. It is very safe, if you have dry skin for every 1 tablespoon we will need to add 3-5 drops of grape seed aroma essential oil and for oily skin add 3-5 drops of neem/ tea tree aroma essential oil(these essential oils are optional). Mix this combination with either rose water, honey or normal water. Apply as as any normal pack. These four ingredients are easily available but if one does not want to use them and need a ready-made pack then they can use DermActive Mask and Alovis Pack. One can use them separately or mix both these packs in equal proportions and apply as any other regular mask.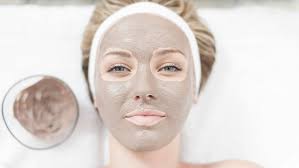 To Know More Watch Our YouTube Video:- https://youtu.be/Ba76VAsKxpU
#jyovis #jyovisayurveda #claymask #homeremedy
To Order :
1) DermActive Face Mask 100g – https://bit.ly/3xgBi3s​
2) DermActive Face Mask 500g – https://bit.ly/3tCNKbv​
3) DermActive Alovis Pack – https://bit.ly/3dEKB5s​
– For Doctor Consultation :- http://bit.ly/2tomCT6​
– Go Through All The Products :- www.jyovis.com/store
– Online Learn & Earn Courses : www.jyovis.com/courses
– Best Ayurvedic Products :- http://bit.ly/36ntvmA​
– Top Cosmetic & Beauty Products :- http://bit.ly/2F99OCW​
– Active Forever 21 Days Online Program : https://www.jyovis.com/product/active…